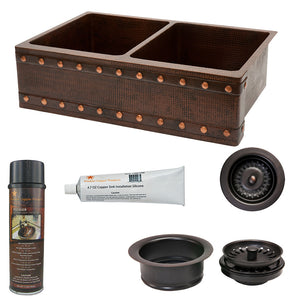 Premier Copper Products
KSP3_KA50DB33229BS - 33" Hammered Copper Kitchen Apron 50/50 Double Basin Sink w/ Barrel Strap Design with Matching Drains, and Accessories
Regular price
$ 1,845.98
$ 0.00
Unit price
per
PACKAGE INCLUDES:
*33" Hammered Copper Kitchen Apron 50/50 Double Basin Sink w/ Barrel Strap Design (KA50DB33229BS)
*3.5" Deluxe Garbage Disposal Drain w/ Basket - Oil Rubbed Bronze (D-130ORB)
*3.5" Kitchen, Prep, Bar Basket Strainer Drain - Oil Rubbed Bronze (D-132ORB)
*Copper Sink Wax and Cleaner (W900-WAX)
*Copper Sink Installation Silicone (C900-ORB)
*Care Instructions
*Warranty Information
SINK PRODUCT DETAILS:
Our new barrel strap design was inspired by the oak wine barrels used to age and flavor wine. The use of wine barrels is a centuries old tradition and is still practiced today. Our barrel strap designed sink will bring warmth and elegance into your household.
*Configuration: Apron Front 50/50 Basin Split
*Design: Barrel Strap
*Color: Oil Rubbed Bronze
*Inner Dimension:
*Left Basin 15" x 19" x 9"
*Right Basin 15" x 19" x 9"
*Outer Dimension: 33" x 22" x 9"
*Apron Depth: 9"
*Installation Type: Under Counter or Surface-Mount
*Divider: 1" Wide (Optimized)
*Countertop Depth Required: 25" Front to Back
*Material Gauge: Industry Best (14 Gauge or .0625")
*Drain Size: 3.5"
*Garbage Disposal: OK
*Faucet Mounting: Counter Deck Mount
*Hand Made
*100% Recyclable
*Composition: 99.7% Pure Recycled Copper
*Lead Free (less than .01%)
*Patina: Fired
*Packaging: Wood Crate
*Warranty: Limited Lifetime
*UPC Code: 813584012563
DRAIN (D-130ORB) PRODUCT DETAILS:
*Configuration: Disposal Flange
*Design: Deluxe Style W/ Strainer Basket
*Color: Oil Rubbed Bronze
*Inner Dimension: 3.5"
*Outer Dimension: 4.25"
*Installation Type: Insinkerator Brand Compatible
*Material: Brass
*Drain Size: 3.5"
*Packaging: Recycled Cardboard Box
*UPC Code: 813584010736
DRAIN (D-132ORB) PRODUCT DETAILS:
*Configuration: Basket Strainer
*Design: Deluxe Style W/ Strainer Basket
*Color: Oil Rubbed Bronze
*Inner Dimension: 3.5"
*Outer Dimension: 4.25"
*Installation Type: Compression
*Material: Brass/PVC
*Drain Size: 3.5"
*Packaging: Recycled Cardboard Box
*UPC Code: 813584010743
WAX DETAILS:
*Cleans copper sinks, tubs, accessories, marble, granite, countertops, cabinets, wrought iron, faucets, glass, chrome, appliances, leather and more...
*Made From Natural Bee's Wax
*No Fingerprints
*No Wax Build Up Ever!
*Makes Copper Sinks and Granite Tops Acid Resistant
*Won't Fingerprint Stainless Steel
*Prevents Bathroom Mirrors From Fogging
*Hard Water Protection
*Net Weight: 17oz. (482g)
*UPC Code: 813584010842
SILICONE DETAILS:
*4.5oz Tube
*Neutral Cure Silicone
*Matches a Variety of Different Styled Sinks
*UPC Code: 813584010835
SHIPPING DETAILS:
Ships in a large wooden crate - Kitchen Sink, Drains, Color Matched Installation Silicone, and Copper Sink Wax.
a. Dimensions: 37" x 26" x 12"
b. Weight: 93 lbs
SUGGESTED ACCESSORIES:
*Copper Switchplates Ì_Ì_̱ Models: SO2, SO4, SCOT, SR1-SR4, ST1-ST4, SB1, SB2
*Copper Tiles Ì_Ì_̱ Models: T2DBH, T4DBH, T4DBF, T4DBS, T4DBG, T6DBH
*Copper Pendant Lights Ì_Ì_̱ Models: L100DB-L500DB
---